Welcome to Race Adventures!
A Race event company committed to furthering the "running cause" in El Paso and the Greater Southwest by providing quality, experienced and enthusiastic service to our clients. From first time 5K runner to the experienced Marathoner, we strive for each participant's experience to be a great one!
Location: Fort Bliss
April 25, 2014 at 08:00


Register for the Old Ironsides Mud Challenge
Location: Ascarate Park
April 26, 2014 at 08:00


Register for the 6th Annual Run/Walk for Autism-ONLINE REGISTRATION IS CLOSED. REGISTER IN PERSON AT PACKET PICK UP FRIDAY.
Location: G2
April 27, 2014 at 08:00

Registration is currently Open
Register for the Run From Your Taxes
Location: The Garden
May 03, 2014 at 08:00

Registration is currently Open
Register for the El Paso Diabetes Associaton Run/Walk
Location: Centennial High School
May 04, 2014 at 08:00

Registration is currently Open
Register for the Ginger's Race to the Rainbow
Location: Hanks High School
May 10, 2014 at 08:00

Registration is currently Open
Location:
May 17, 2014 at 08:00


Register for the 4th Annual Armed Forces Day Triathlon
Location: Braden Aboud Memorial Park
May 18, 2014 at 08:00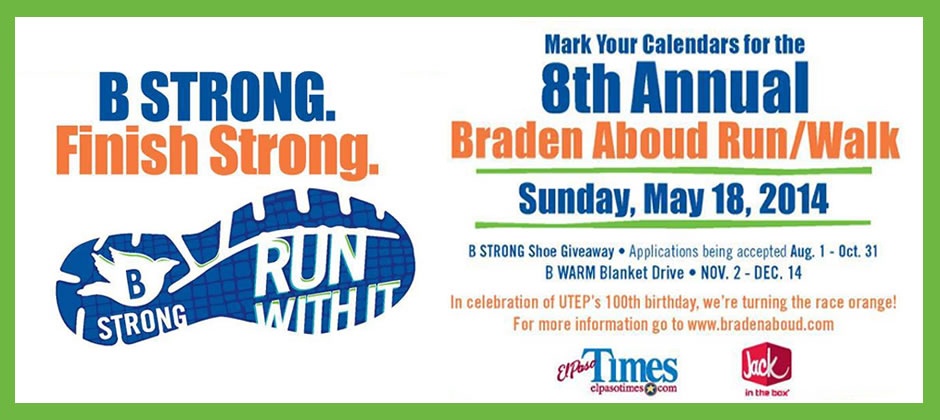 Register for the The Braden Aboud Annual Memorial Run/Walk
Location: Picacho Hills Country Club
May 24, 2014 at 08:00

Registration is currently Open
Register for the Hearts for Autism Fund 5K + 1 mile Fun Run
Location: El Paso Municipal Officers Association Hall
May 24, 2014 at 07:00

Registration is currently Open
Register for the Inaugural Fallen Officer Memorial Run in Memory of Officers Angel Garcia and Jonathan Molina
&nbsp
Quick Registration
Calendar of Events
« April 2014 »
Su
Mo
Tu
We
Th
Fr
Sa
1
2
3
4
7
8
9
10
11
14
15
16
17
18
20
21
22
23
24
28
29
30
View Complete Calendar of Events